Who is Hart Commercial?
Hart Commercial boasts a foundation of over two decades of commercial real estate experience and a passion for mentoring and supporting the next generation of CRE professionals.
What's more, Hart Commercial operates with a positive, driven mindset and welcomes innovative thinking. They are leading the industry while standing behind their deep passion for changing the way brokerage business is executed.
Allison Johnston Frizzo, Hart Commercial's Managing Partner, has served in leadership roles at some of the leading brokerage firms in Dallas. She's building a dynamic brokerage team focused on all asset classes. At Hart Commercial, brokers focus on office, retail, industrial, and medical, with experts in leasing, tenant representation, and investment sales.
This innovative brokerage firm advocates for the importance of marketing space through a digital presence. They strongly focus on leveraging organic social posting for each of their assets as another channel for exposure.
What was the Situation?
Frizzo was representing a young and fast-growing company that needed a space to match their company culture while focusing on budget, location, and a move-in ready cool creative space. To stay within budget, they focused on older buildings instead of brand-new assets, but decision-makers at this firm still wanted a refreshed, updated space in a central location.
What is the Typical Tenant Rep Process?
The typical strategy to find space for clients is leveraging a listing service like CoStar. At other times, end-users search and find space on Loopnet. The challenge with these strategies is an overabundance of options; sometimes, issues with search criteria can cause more problems than solutions.
"There are times when you get in CoStar, and you've got thousands of properties and thousands of spaces. There can be so much to dig through to find that one specific property."
What was the Impact of the RealtyAds Digital Presence?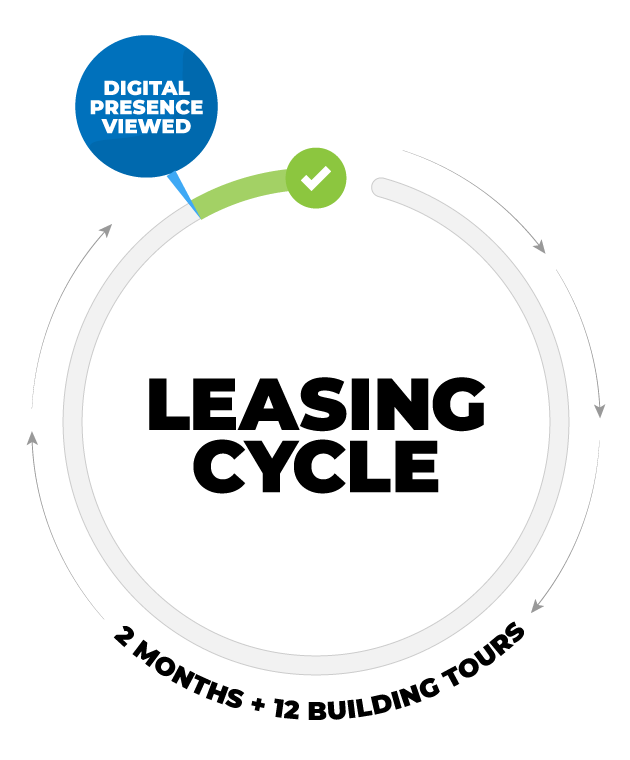 Frizzo and her client decided to focus on pricing and location, so they shifted their search further North. Meanwhile, Frizzo was proactively targeted through RealtyAds proprietary audiences on Facebook, LinkedIn, Instagram, and Twitter. She saw an advertisement for The Commons multiple times on Instagram that specifically highlighted the updated spec suites available.
Although she was familiar with the building, she had yet to see the new lobby renovations and cool, creative move-in-ready spaces featured in the digital advertisement. The available space in the ad was the size range and location in an area her client would be interested in. With the addition of the spec suites being fully furnished, Frizzo decided this would be an ideal space for her client and sent the ad directly to them.
Decision-makers at the company were immediately interested in touring The Commons. When they toured, the furniture featured in the advertisement was the exact same, which led to a package deal that worked perfectly for this specific client. Before seeing The Commons RealtyAds powered digital presence on Instagram, Frizzo and her client toured 12 assets within 2 months.
What was The Deal?
Immediately after touring the spec suite within The Commons, decision-makers at the company were ready to start to move forward on the space. The landlord was able to work the furniture from the ad in the space into the deal, which was a massive plus in accelerating the leasing process.
In less than a month, Frizzo and the leasing agent for The Commons were able to get through negotiations and sign a lease. Had she not seen this digital presence, including updated aspects about the space, she says they probably would have spent much more time trying to find a space that fit all of her client's needs. She is now working on expansion options for their company.
Tenant reps tend to gravitate toward the properties they already know about. Frizzo says, "If you don't know the property or the offering for it to pop up all over my Instagram feed, I think that resonated, and we probably wouldn't have gone there and toured if I never saw the digital presence."
Takeaway
Frizzo also understands the struggles you face as a leasing agent proposing solutions or strategies to marketing, but she is a huge advocate for RealtyAds. She says in her experience, "It paid for itself."
Reassurance that you're spending your budget on the most effective and efficient strategies is paramount. With RealtyAds, not only do you leverage the most effective platform to reach brokers, as proven by this case study, but also the most effective platform to reach tenants and consistently communicate your message throughout the entire sales cycle.