Impossibly Powerful
CRE

Marketing
Higher Quality, Lower Cost Market Reach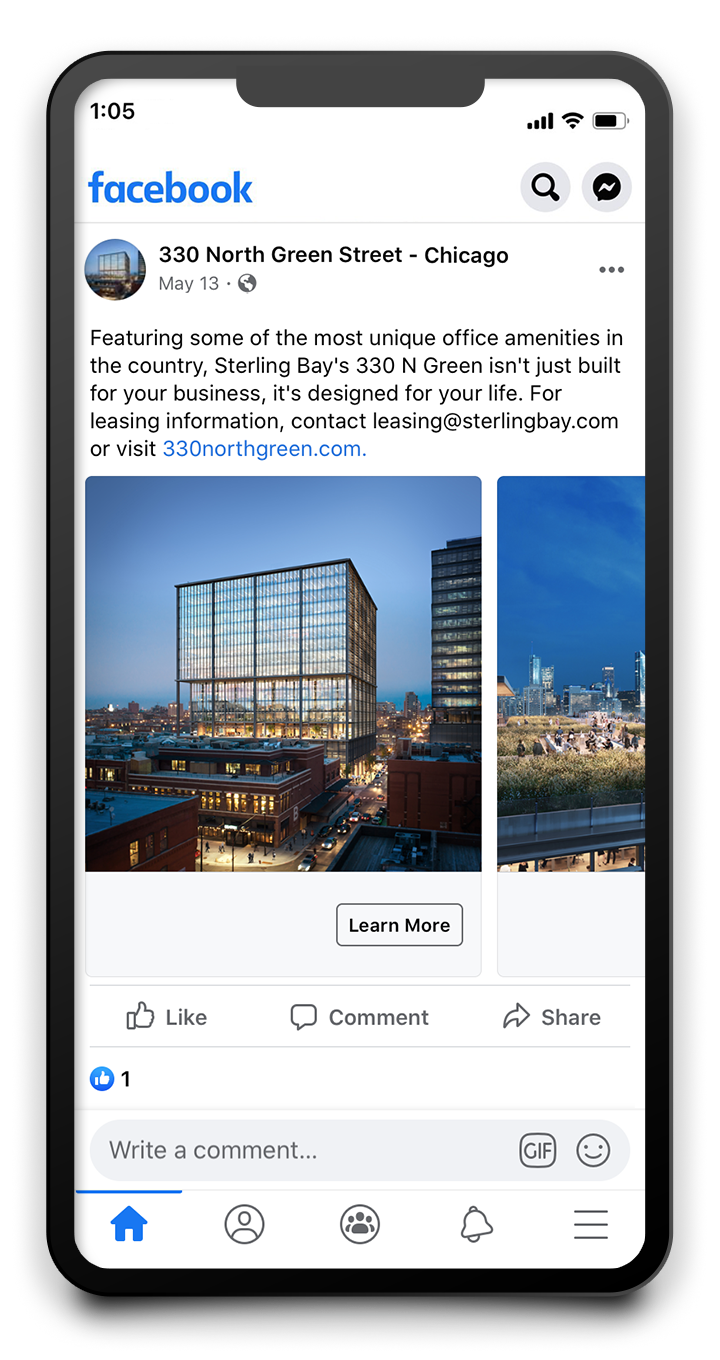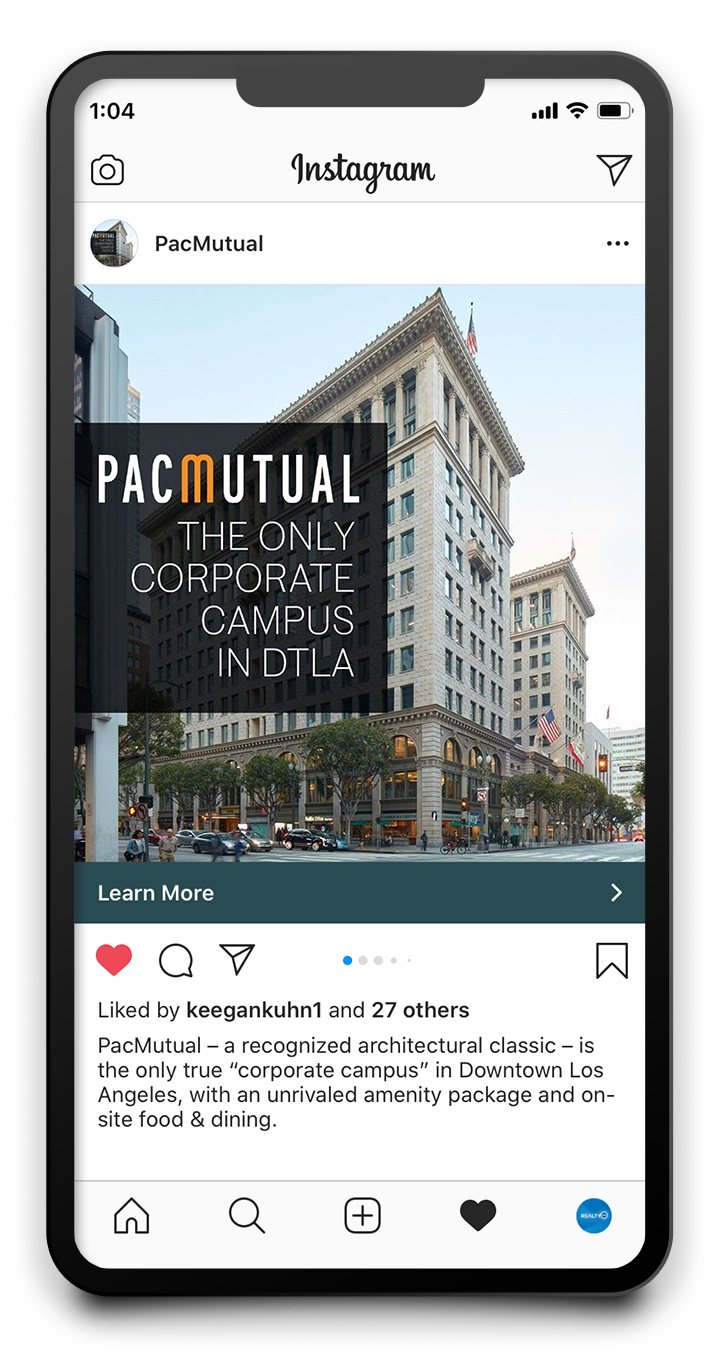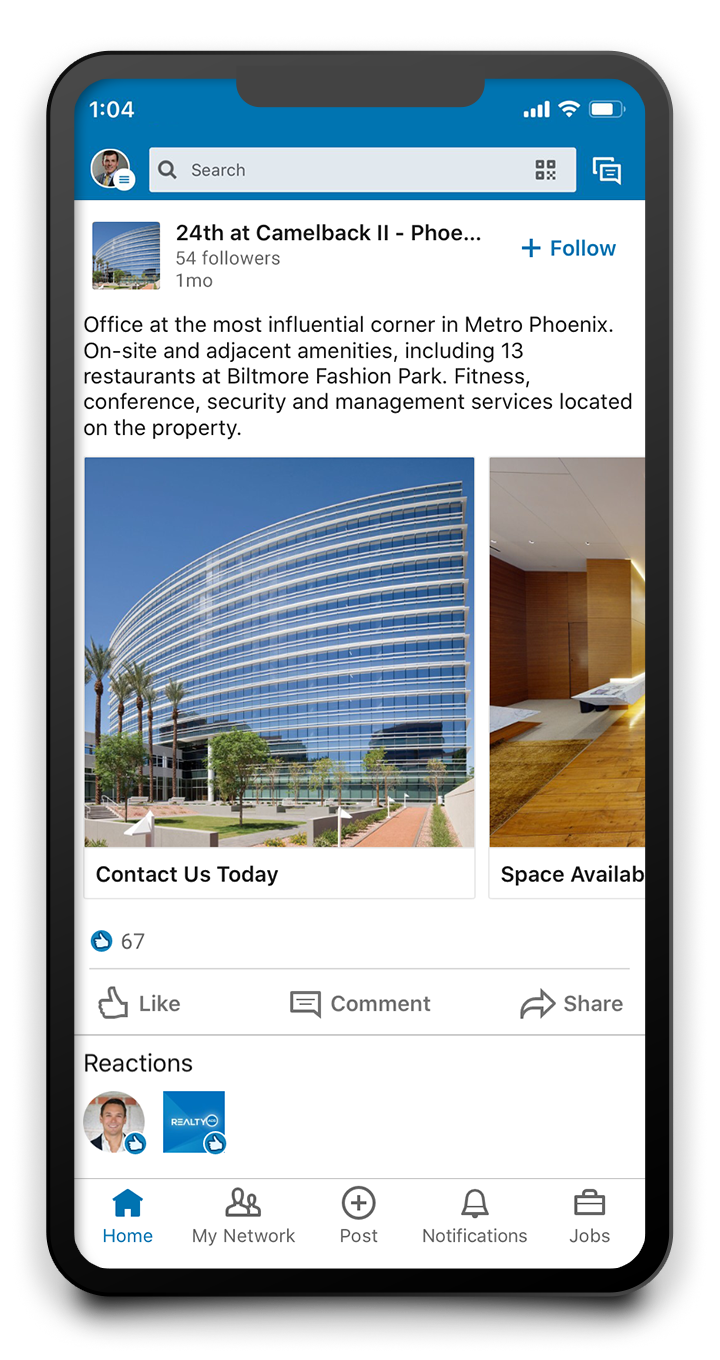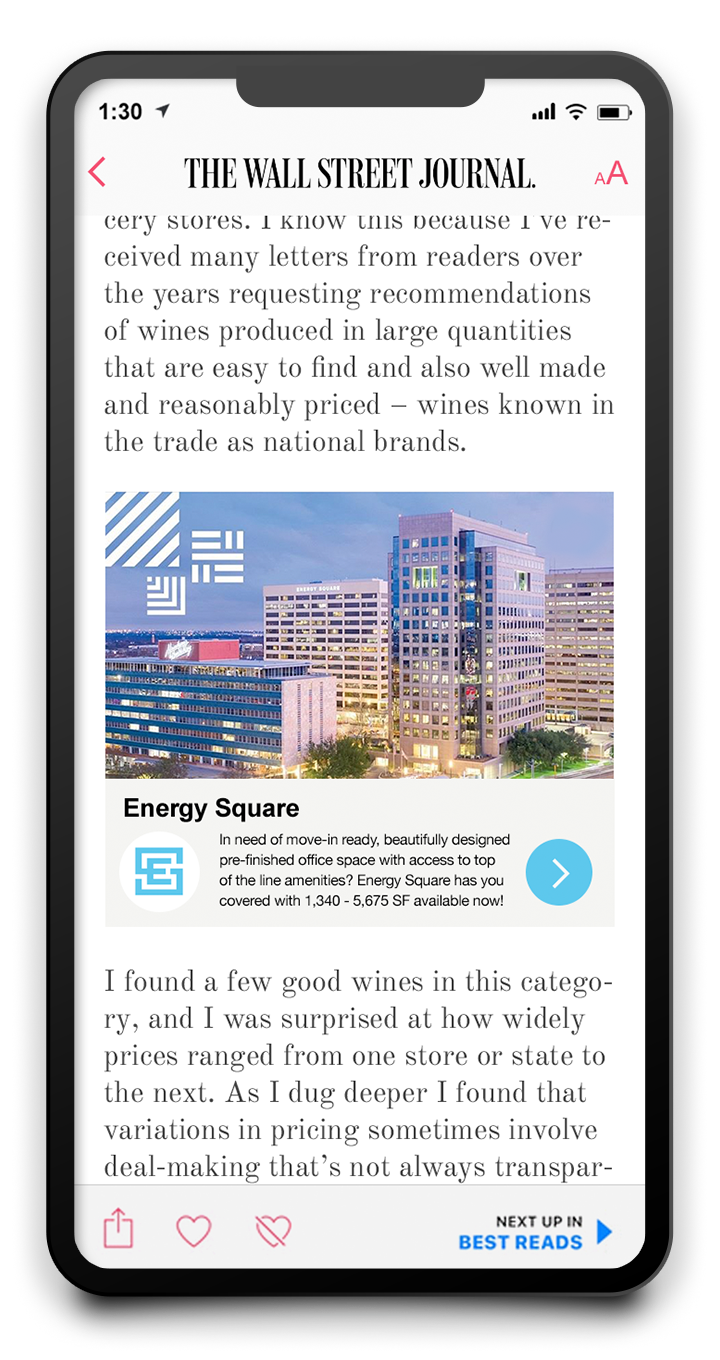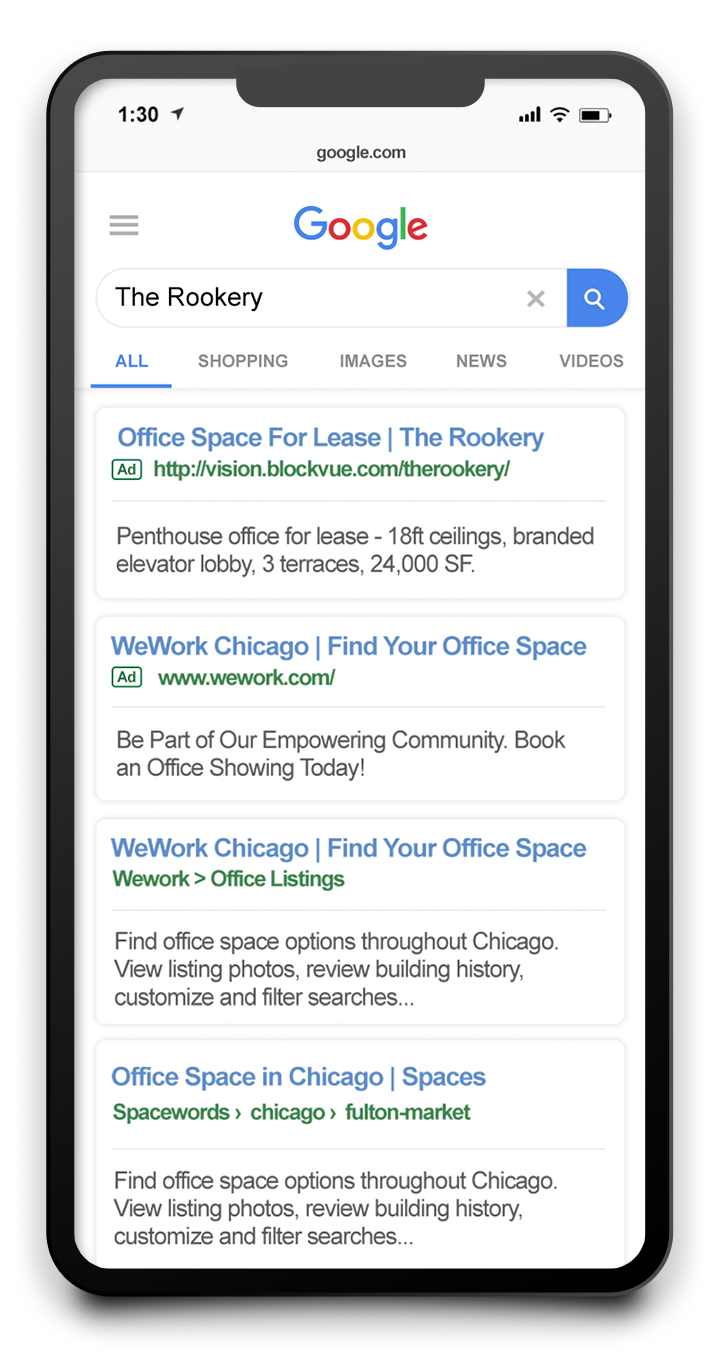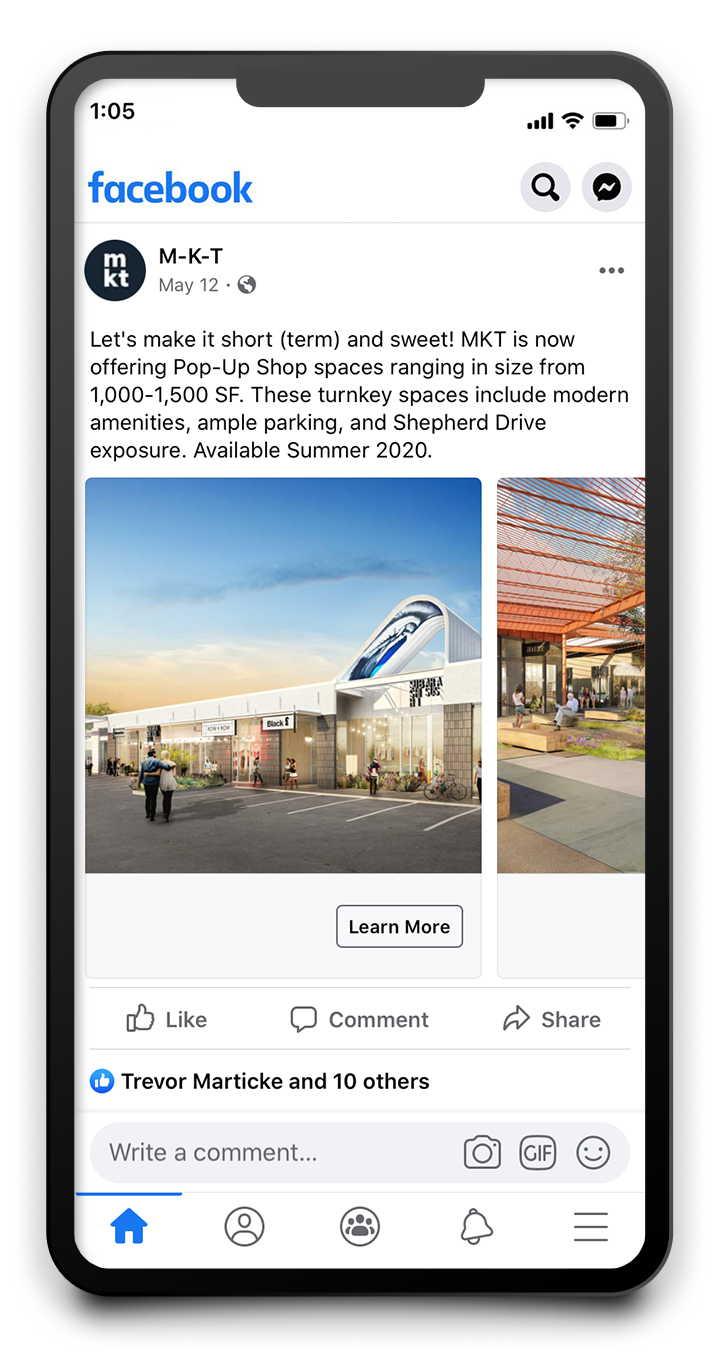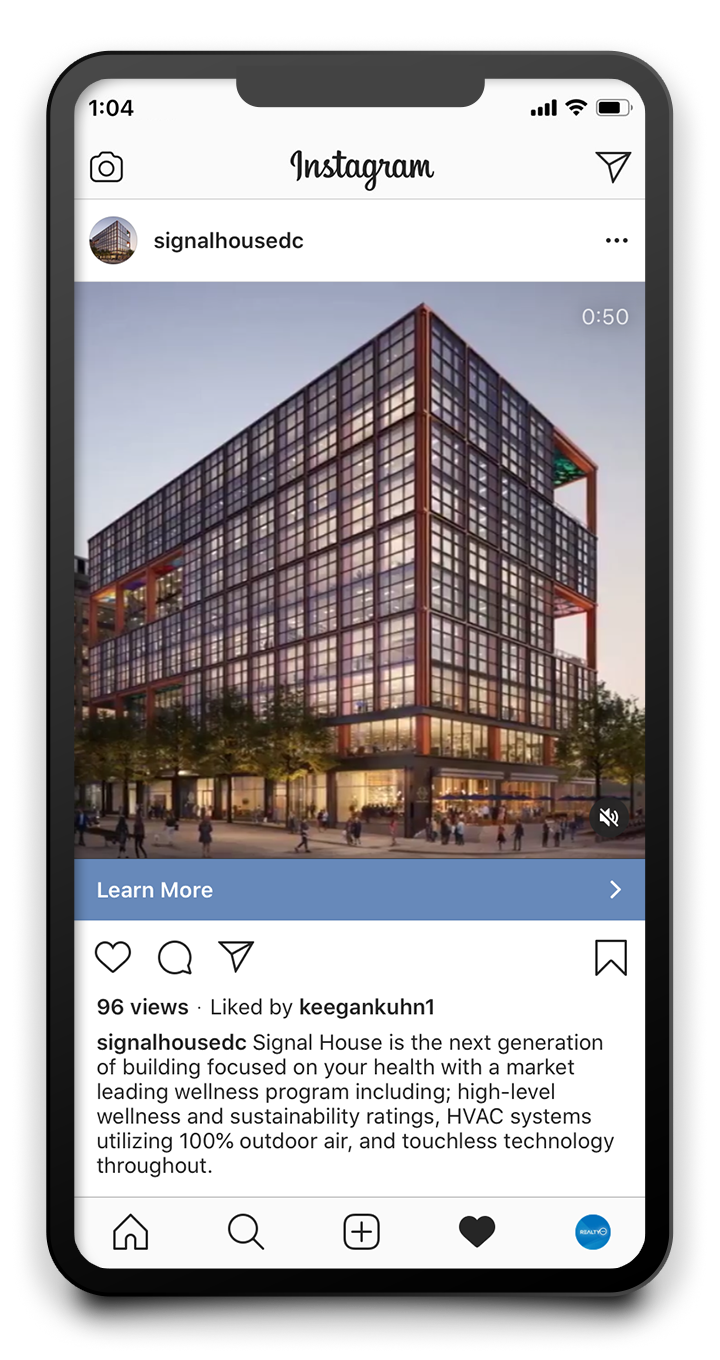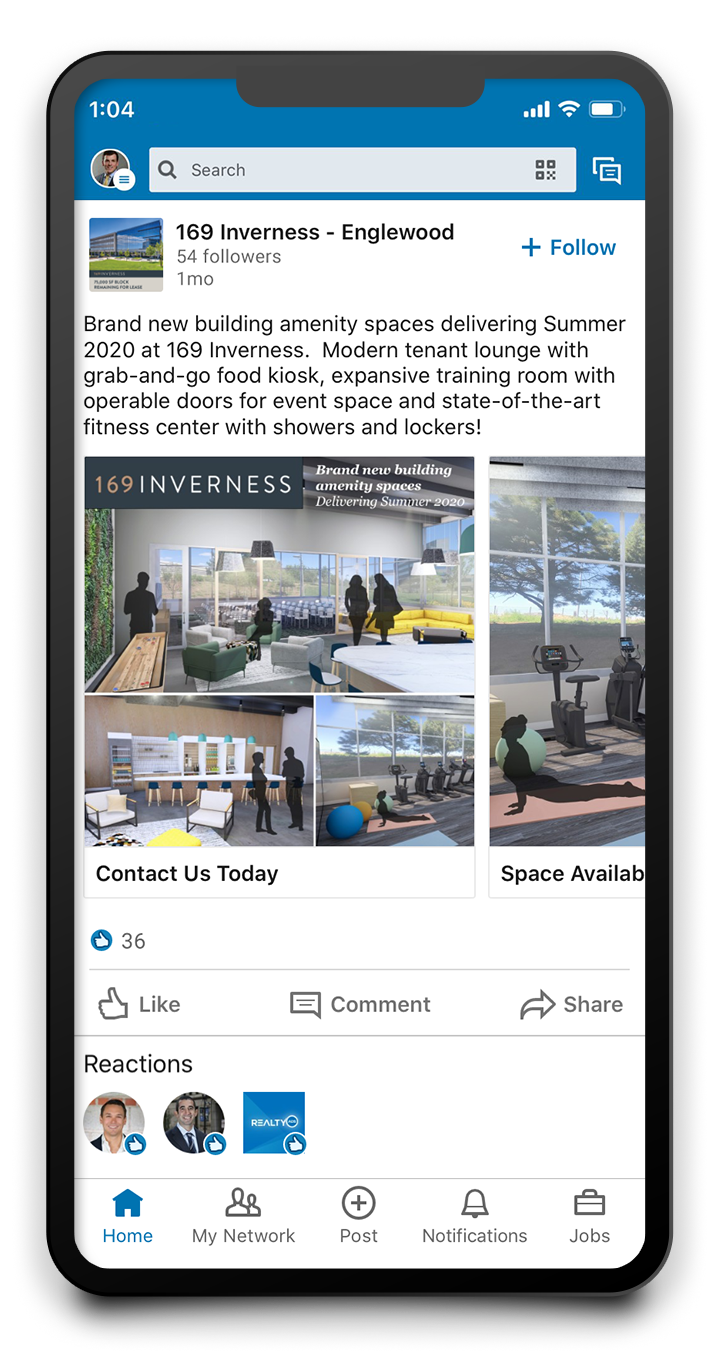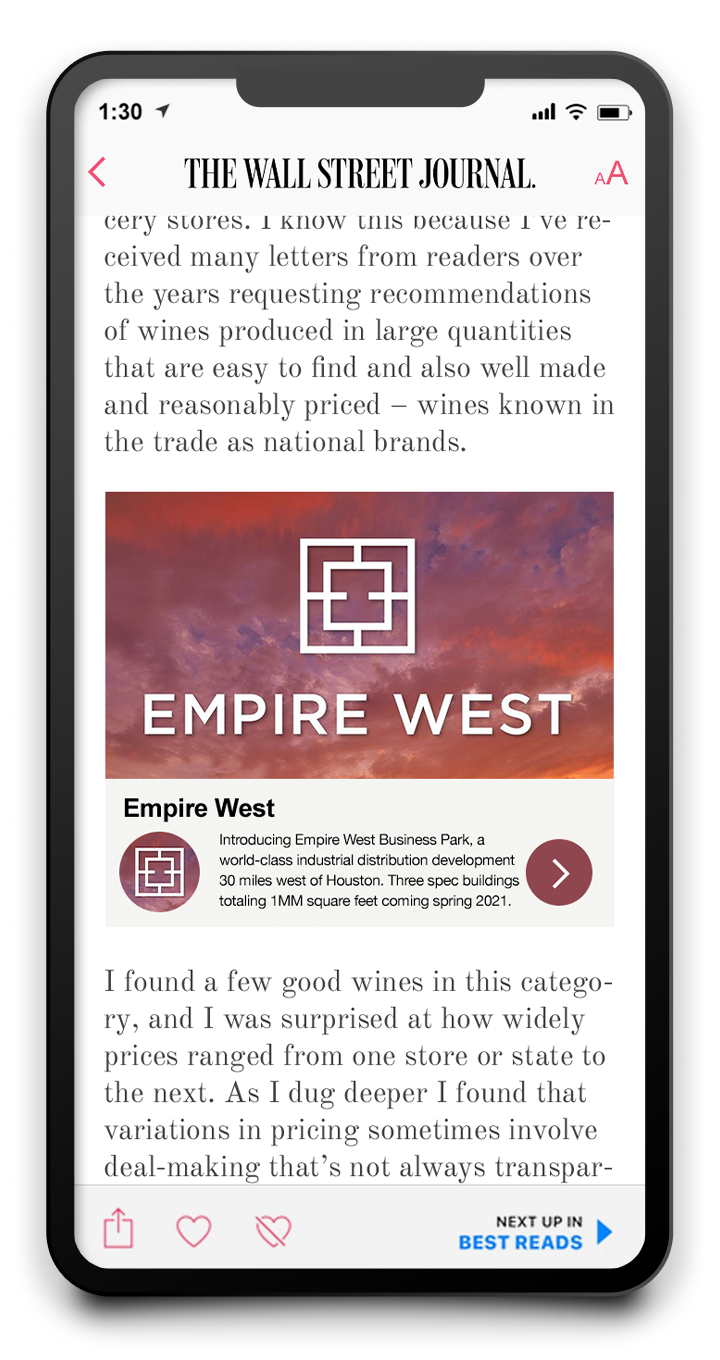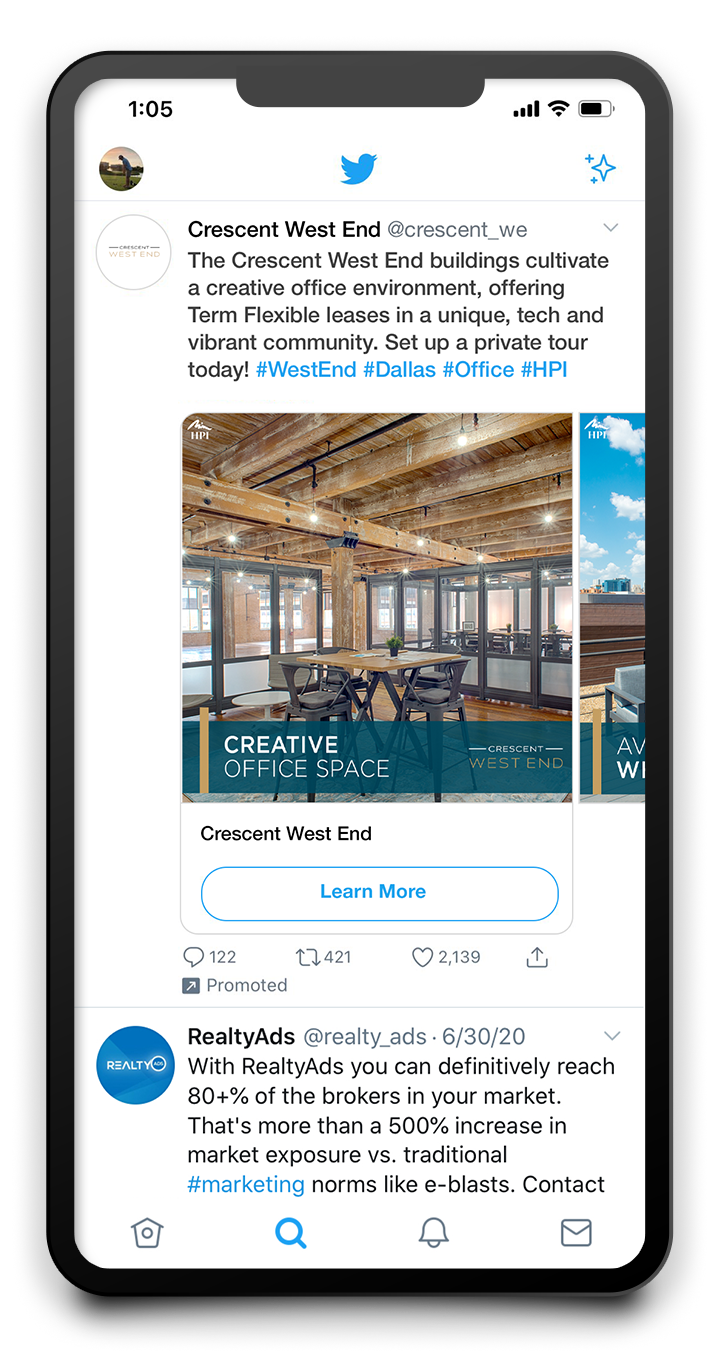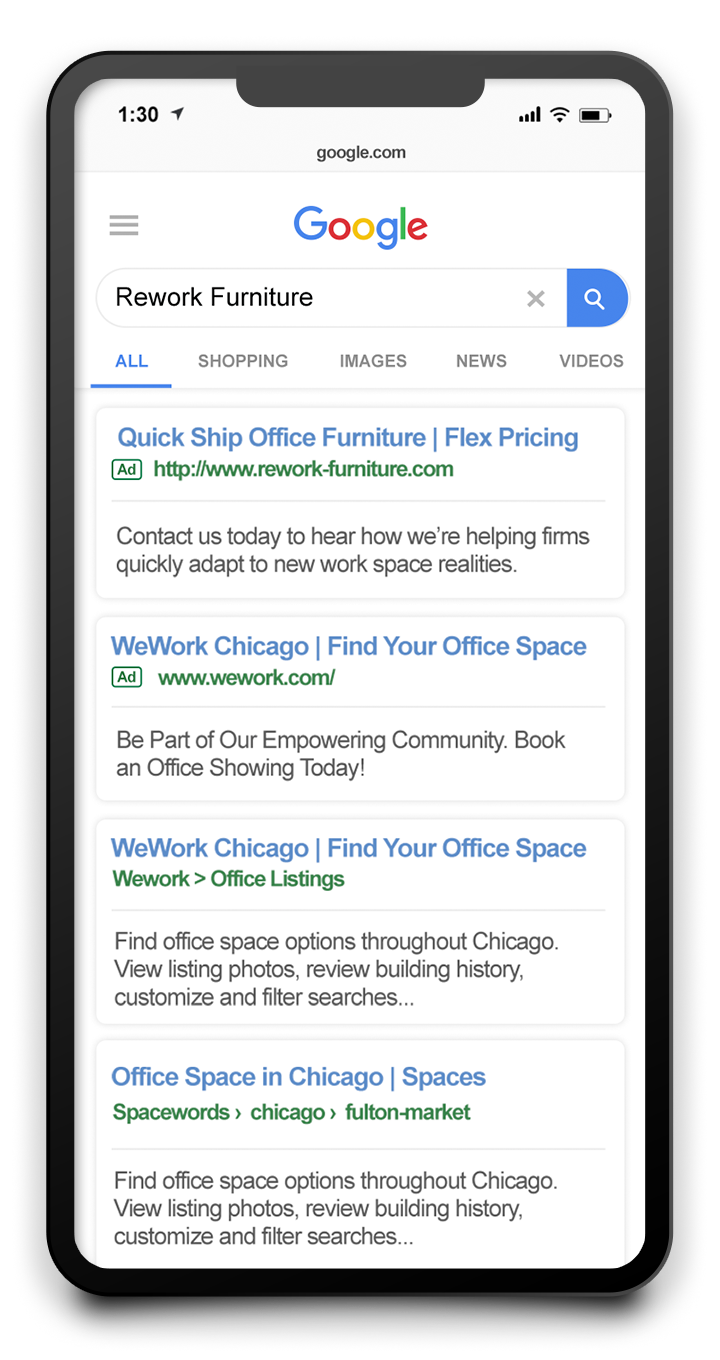 100% of Your Prospects Are Online - Can You Afford Not to Be?
The RealtyAds Platform is designed to be commercial real estate's most effective use of a marketing dollar. By toggling 1 button, our artificial intelligence (RITA) creates an instant, optimized, and safe online presence for your building. In all, this means more meaningful market reach on less advertising spend.
Why RealtyAds?
Today's real estate marketing norms are expensive and ineffective. Next gen digital advertising on the RealtyAds Platform will help.
The RealtyAds Platform handles all the work associated with launching and optimizing digital advertising efforts so that you can focus on what you do best — selling and leasing real estate. With $30mm+ in software enabled ad spend under our belt and over 15 years experience in real estate, it is not surprising RealtyAds is the industry's most effective use of a marketing dollar.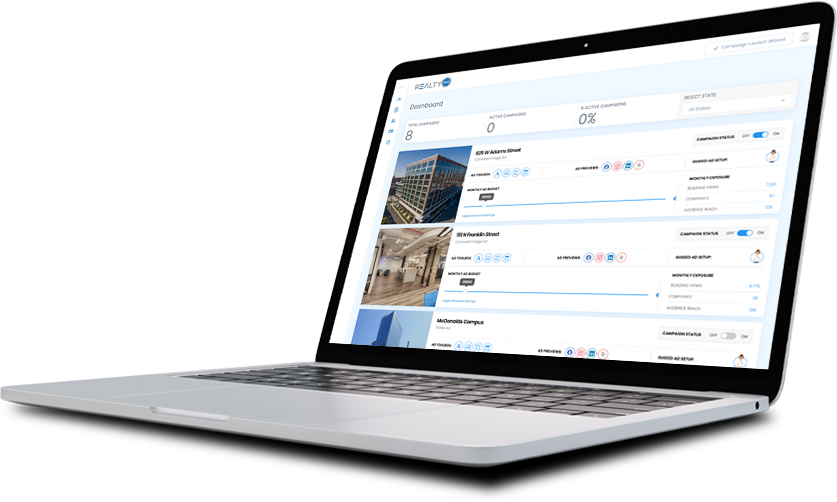 MEET RITA.
Your RealtyAds Intelligent Technology Assistant
RITA is RealtyAds proven AI that makes digital advertising effortless and effective, even if your team has no experience in the field. RITA will launch, manage, and monitor your online presence in real time. To increase ROI, she'll even learn where the most exposure is coming from and instinctively allocate budget to those platforms.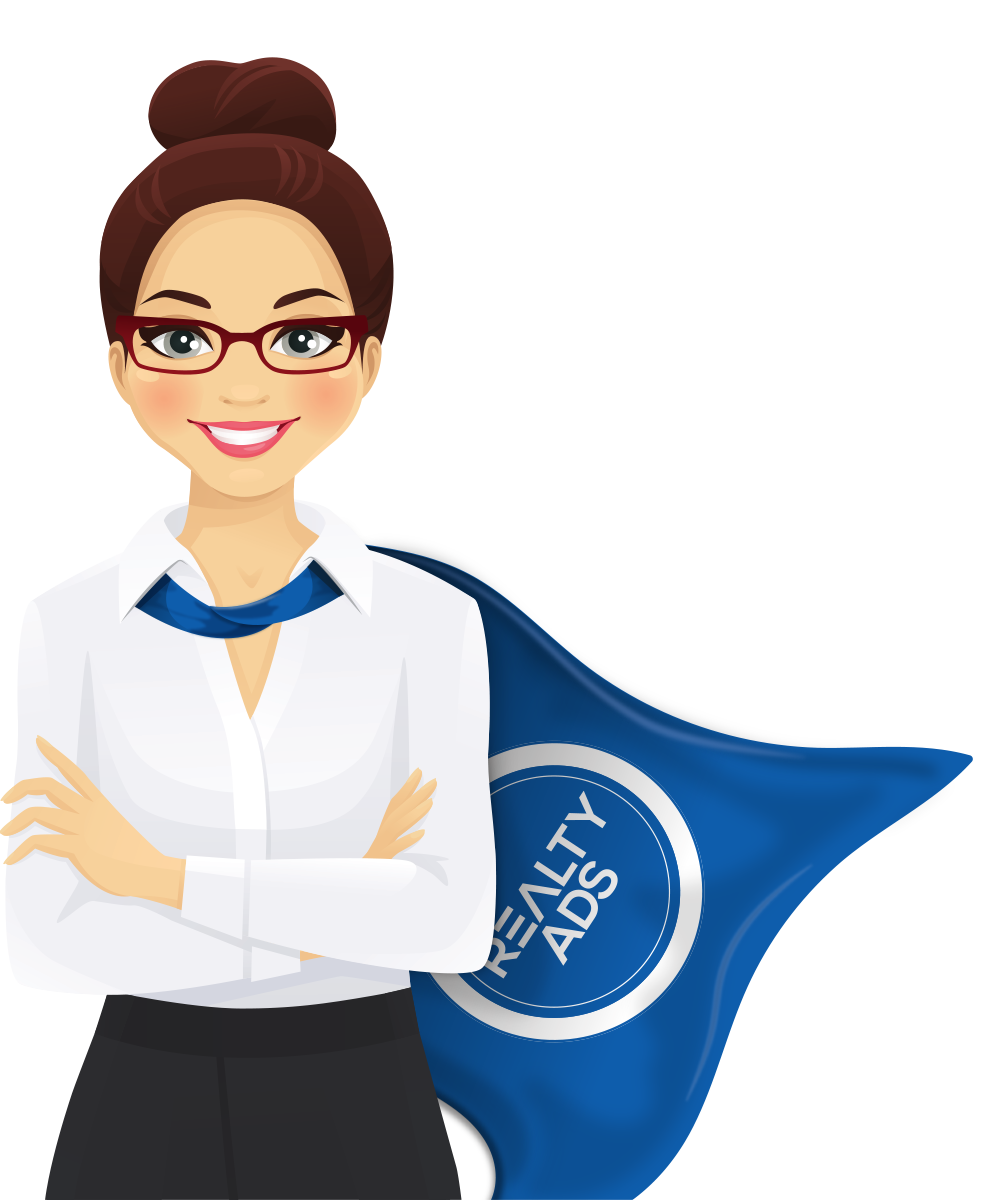 RITA'S BEEN BUSY
Avg. Increase in Market Reach
3.82x
Industry Leading Terms & Flexibility
QUICKLY BUILD AND LAUNCH DIGITAL ADS
CUSTOMIZABLE BUDGETS STARTING AT $500 PER MONTH
REALTIME DATA ANALYTICS AND REPORTING
UNLIMITED CHANGES TO AD DESIGN AND CONTENT
NO CONTRACT OR MINIMUM TERM LENGTH
REPUTATION MANAGEMENT INCLUDED AT ALL PRICE POINTS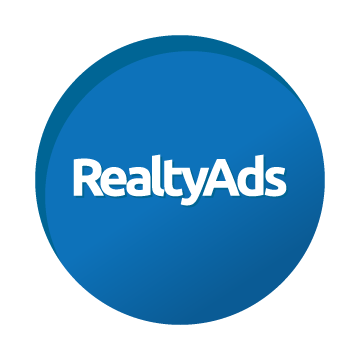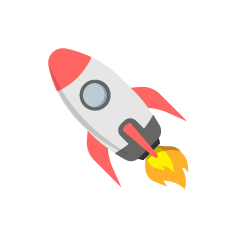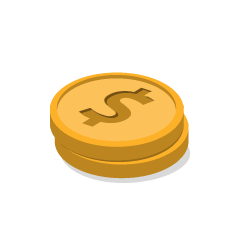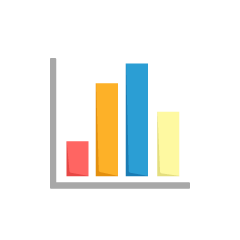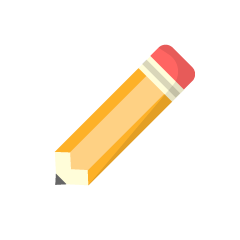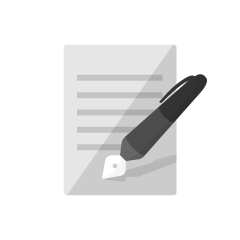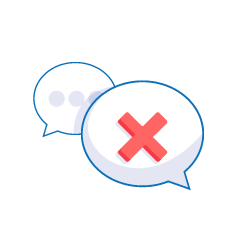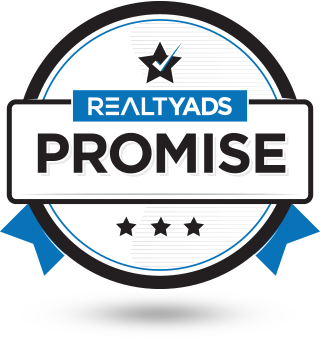 Satisfied Clients
Our team recently had a competitive pitch for a portfolio of buildings in Dallas. Glad to report we won the business. Part of our success is directly attributable to RealtyAds. The client quickly welcomed the notion of generating more market exposure and for less money than any other mode of marketing in CRE today. We'll certainly be using RealtyAds at these properties and additional buildings to come.
Ben Cuzen
Leasing
Leasing - HPI
RealtyAds has been a life-saver for us. The reach and exposure we've gotten from the platform along with the incredible professionalism, expertise and kindness from the RealtyAds team has really made an impact on our overall marketing strategies. With the in-depth reporting, it's an incredible tool we highly recommend to all our clients.
Julien Garman
Communications Manager
Communications Manager - Lincoln Property Company
We're always looking for better ways to market our properties. The RealtyAds Platform proved extremely effective at reaching our target audience at a very competitive price. Absolutely recommend.
Greg O'Neal
Managing Director
Managing Director - Beacon Capital Partners
Commercial Real Estate has long struggled at reaching the end-user. RealtyAds solved that issue for me, my team, and the clients we represent. Unlike emails or other modes of marketing, RealtyAds generates sustained, lasting communications with the Tenants we're pursuing both pre and post tour.
John Bonnell
Managing Director
Managing Director - JLL
RealtyAds is providing our team, as well as, our clients with a digital solution that keeps our listings top-of-mind and relevant in the marketplace throughout the uniquely long sales cycle we have in commercial real estate.
Whitney Hake
Senior Vice President
Senior Vice President - Transwestern
With RealtyAds, not only can we reach the brokerage community with more certainty, but we can now proactively apply our in-depth market knowledge in order to get our listings in front of the C-Suite decision-makers we couldn't reach previously. The ability to grow market awareness for our listings has been greatly enhanced with the RealtyAds platform. I highly recommend this service.
Carmine DiLucente
Vice President
Vice President - CBRE
RealtyAds has been a game changer for our property marketing efforts. I've never seen a more straight-forward yet customized approach to reach prospects and brokers. In this day and age where digital marketing meets social media, you can't miss with cost-effective RealtyAds.
Bryan Heller
Senior Vice President
Senior Vice President - CBRE
RealtyAds uniquely gives our agency practice a valued voice for us to continually communicate our property opportunities to the market. Not only does their technology supplement our efforts, broadening broker and tenant exposure pre-tour, it enhances cl...
Mark Emerick
Senior Vice President
Senior Vice President - CBRE
The RealtyAds Platform is not only simple but very effective in getting in front of our target audience. The properties we market using RealtyAds are in front of brokers in a different way than previous methods with the added bonus of reaching our tenants on a direct basis as well.
Jonathon W. Cordell
Executive Vice President
Executive Vice President - CBRE
Our need to optimize our digital advertising efforts during the pandemic was a top priority. Partnering with RealtyAds to build a significant online presence for our listings has proven to the be the right choice as we can effectively reach both brokers and the decision makers. The platform is extremely flexible and user friendly. Highly recommend!
Gemma Wilson
Project Coordinator
Project Coordinator - JLL
As marketing lead for a top brokerage team in NYC, I often put new advertising tactics to use. None of these other mediums have performed as well as RITA & RealtyAds at generating the market exposure our buildings need - especially at this price point. Have already recommended it to my colleagues.
Matt Maier
Marketing Coordinator
Marketing Coordinator - Avison Young
We are constantly looking for better ways to market our properties and raise awareness. RealtyAds helps increase our market exposure and keep our buildings top of mind in the brokerage community and to end-user prospects.
John Walker
Asset Manager
Asset Manager - DRA Advisors
The RealtyAds Platform equips brokerage teams with a powerful tool to deliver a property's message to the right audiences on platforms such as LinkedIn, Google, and Twitter. The product has become a key component to effectively communicating our properties messages to the market.
Adam Karafiol
Senior Vice President
Senior Vice President - Onyx Equities
Unlike other forms of marketing that we are using today, RealtyAds provides quantifiable data and results in real-time. The platform reporting is unmatched and makes it simple to understand the success of our marketing efforts.
Margaret Graves
Marketing Director
Marketing Director - Holder Properties
In today's age, creating a robust online presence for your asset is critical to successfully leasing the property. The RealtyAds Platform made digitizing our assets simple and effective. Great team to work with.
Nick Hepner
Leasing
Leasing - JLL
RealtyAds gives our properties more exposure than any other marketing medium we've tried. Their algorithm, RITA, lives up to the billing and makes digital marketing completely effortless while delivering better market reach for less money.
Joe Sergi
COO / Partner
COO / Partner - Clear Height Properties
RealtyAds provides our clients with a more effective and cheaper medium for generating market reach. We can reach the target audiences we want to and can track meaningful market exposure the platform generates.
Colin Morrison
Director
Director - Cushman & Wakefield
We chose RealtyAds because it is highly targeted to the right people in the right place at the right time - and uses proven and cutting edge marketing & technology strategies. They have created a highly useful tool for competing for tenant demand, pre-empting objections, and changing the positioning of your project in the marketplace.
Kristen Baker
Leasing Associate
Leasing Associate - Transwestern
RealtyAds provides a unique solution to make digital advertising streamlined and easy, supporting our marketing efforts with quantifiable data in real-time. I especially appreciate the quick responses of the Customer Concierge team - thank you RealtyAds!
Emily Bridges
Marketing Director
Marketing Director - Choate Construction
RealtyAds was directly connected to an increase in tour activity at the building. Our clients are always looking for an edge to generate more exposure, it was clear that this medium generated a better ROI than others.
Mark Wooters
Managing Director
Managing Director - Cushman & Wakefield
Our team was one of the first to apply RealtyAds technology to industrial assets - it hasn't been a mistake. It's helped our clients scale a property's message to more brokers and end-users - giving us and our clients a competitive advantage in the market.
Chris Tomasulo
Managing Director
Managing Director - JLL
The owners I represent are always looking for ways to differentiate themselves in their marketing and of course are always looking for the most bang for their buck. We have found this is a new and different way to reach our target market that was previously untapped and using the RealtyAds technology, we are able to get more reach for less spend. We continue to implement RealtyAds across our portfolio.
John Norris
Senior Managing Director
Senior Managing Director - Newmark Grubb Knight Frank
RealtyAds is an incredible way to make our projects stand out in an increasingly competitive marketplace. The platform ensures our projects are being viewed by the decision makers we want to reach.
Basel Bataineh
Vice President
Vice President - Somera Road
The onboarding process with RealtyAds is incredibly simple. After participating in a screenshare, our leasing team was able to quickly create and launch an online presence for a portfolio of assets. The new approach to marketing our buildings has led to significant increase in targeted exposure for our assets.
Tim Greiner
Executive Vice President
Executive Vice President - JLL
In a world of endless emails we were looking for an effective marketing tool. RealtyAds is that tool. With one click we can penetrate all audiences for less money than any other form of marketing in commercial real estate.
Adam Showalter
Managing Director
Managing Director - Stream Realty
We started using RealtyAds to better market our properties and have been thrilled with the Platform. RITA, their proprietary AI component, has simplified the digital advertising process while also making sure our ads are shown to the right audience.
Chris Cassata
Executive Vice President
Executive Vice President - JLL
To better serve our industrial clients, we are always looking for ways to market their properties more effectively. RealtyAds provides our team with a different type of solution that allows for a high market reach to brokers and decision-makers at a price point lower than many other marketing mediums.
Joe Karmin
Excecutive Vice President
Excecutive Vice President - Transwestern
Creating awareness about a property is the vital first step in a successful leasing strategy. On this front, RealtyAds has been an extremely effective marketing tool to generate building awareness to any audience of our leasing team's choosing. Great to see new technologies in CRE solving everyday issues.
Nick Nigro
Asset Management
Asset Management - Bridge Investment Group
Commercial real estate has rolled out the same marketing playbook for far too long - RealtyAds is changing that. Their product helps our team reach not only more prospects, but the right prospects. Without it, your buildings are at a competitive disadvantage.
Jeff Dowdell
Senior Vice President
Senior Vice President - Transwestern
We were lucky enough to learn about RealtyAds earlier this year and their technology has filled a gaping hole in the commercial real estate market. The industry was traditionally marketing through email, events and through commercial real estate websites until RealtyAds! Now we can get more exposure for our buildings and directly target the people and industries we want in an efficient way. Putting our money into this platform is a no brainer and it shows in the results. Their team of professionals have been nothing but helpful, responsive and hands-on throughout the process. I highly recommend adding this to your suite of products as a marketing professional or broker!
Victoria Richardson
Marketing Manager
Marketing Manager - Colliers
RealtyAds today delivers on the next generation of marketing expectations. If your clients aren't already asking you to provide real metrics for direct outreach and impressions, they will be, they should be and this allows you to deliver. This is the best platform in the market today, the team has real industry experience and the support has been awesome. In addition to the clear value creation, plugging in RealtyAds to your marketing strategy provides an overall savings.
Lawrence Gellerstedt
President
President - Southsource
Real estate has a problem, a big one. And no, it's not what you're thinking. Even before COVID-19 fundamentally rocked …
We are constantly looking for better ways to market our properties and raise awareness. RealtyAds helps increase our market exposure and keep our buildings top of mind in the brokerage community and to end-user prospects.
Ten years ago, social media began making headwinds as society was introduced to liking, poking, and double tapping their way …