Situation
Shorenstein was underway constructing a new 250,000 SF Class A office building located in one of Denver's most dynamic neighborhoods, Lower Downtown (LoDo). However, the asset was set to deliver in 12 months and was yet to execute a lease. To energize leasing efforts in the face of an extremely challenging market, Shorenstein and the One Platte Team were reevaluating their entire marketing and leasing strategy. What was clear was that the traditional methods of commercial real estate marketing were failing to effectively facilitate leasing activity.
Solution
Shorenstein's National Leasing Director introduced RealtyAds to the One Platte team for an initial presentation. Only 2 weeks later and with the simple flip of a switch on the RealtyAds Platform, One Platte had built a digital presence across all relevant digital channels including Facebook, LinkedIn, Google, and Instagram.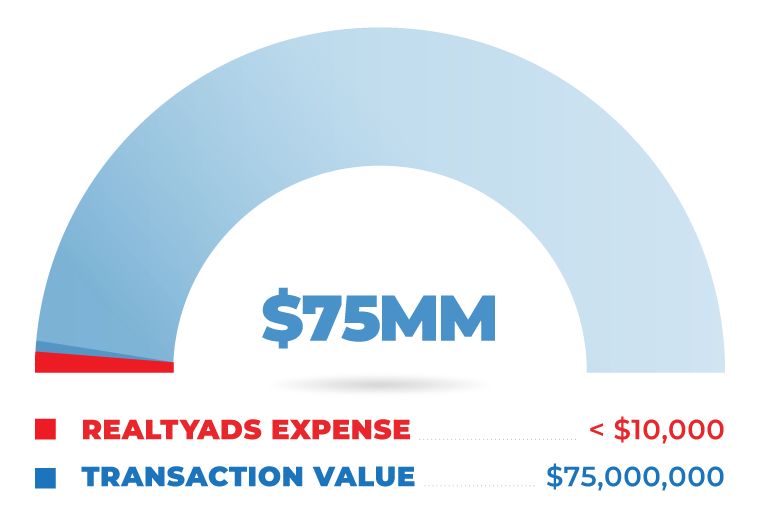 To make RealtyAds even more impactful, the building's leasing team (Newmark) used their market intelligence to curate a list of critical audiences. This list included targets such as high-producing brokers, tenants in the market, active pursuits, and companies they knew to be a good fit for the property. With RealtyAds now serving as a core component of their marketing efforts, the brokers had a tool that could facilitate leasing efforts by proactively pushing the right message, to the right people, at the right stage of the deal.
Newmark's proactive approach was rewarded.
At the direction of the leasing team, RealtyAds software was prioritizing the marketing budget to a 120,000 square foot tenant in the market who was evaluating a series of properties. Unlike the rest of the assets though, One Platte was able to continue to tell its story post-tour and directly to the decision-makers tasked with signing a lease. The tenant ended up executing a lease valued at more than $75,000,000 dollars.
Takeaway
In the 6 months prior to lease execution, the decision-makers had interacted with the asset's digital presence over 100 times, constantly reminding them of the property's "why." RealtyAds gave the building the tool to make this type of targeted, consistent, and measurable outreach to the tenant possible. As One Platte demonstrates, this type of targeted and sustained outreach in your tenant pursuits will facilitate leasing activity.
As you look to the future of commercial real estate (CRE) marketing, do not fall for the illusory safety of past practices. These historical marketing channels fail to truly impact leasing activity because they fail to routinely reach brokers at scale, fail to target specific tenants, and fail to keep your asset relevant post tour. Instead, marry your brokers' tremendous marketing intelligence with RealtyAds software to make sure your asset is targeting its message to those that can drive leasing.
Other Important Information
RealtyAds increased local broker reach 394%
RealtyAds reached decision-makers at more than 1,600 companies
RealtyAds was the only form of marketing that continued to reach prospects post-tour, as they actively considered the property versus the competition.