Today, RealtyAds launched the RealtyAds Partner Hub. The RealtyAds Partner Hub creates the most advanced marketing solution ever available in commercial real estate by leveraging data to automate how, when, and where a building reaches a prospective customer.
How It Works
RealtyAds has partnered with the most forward-thinking CRM and Leasing and Management platforms such as Salesforce, Microsoft, Dottid, HubSpot, MailChimp, and Constant Contact. Through these partnership integrations, RealtyAds has an automated access point to these platforms, and can automatically pull data as-needed.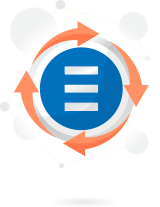 The data received from these platforms is then used in real-time to define who a building is marketing to and how RealtyAds marketing budget is being prioritized. For instance, if a broker enters a prospective tenant into Salesforce, that prospect and its representation will automatically be targeted with the building's messaging until a lease is signed. These touches throughout an entire pursuit helps a building close more deals.
What Are the Benefits
Teams that adopt this technology will have 2 major strategic advantages over the competition.

First, the RealtyAds Partner Hub automates a building's ability to reach critical audiences. Traditional forms of CRE marketing cast a wide net to unknown audiences, driving up marketing costs as they do so. RealtyAds Partner Hub offers an alternative strategy by generating repeated exposure to key tenant advisors, prospective tenants, and decision makers actively considering an asset. Because the integration has allowed this process to be fully automated, no additional work is required for asset managers, marketers, or your leasing team.

Second, the RealtyAds Partner Hub provides more transparency into the ROI on a property's marketing spend. By integrating your marketing efforts with your CRM, you will gain full transparency into how your marketing efforts contributed to tenant pursuits and ultimately closed transactions.
How Do I Get Setup
To start using the RealtyAds Partner Hub, please contact your RealtyAds account representative or write support@realtyads.com. A RealtyAds team member will then guide you through additional details and whether or not your CRM or Leasing and Management platform has the technology to integrate.
RealtyAds knows today's announcement marks a colossal leap forward for commercial real estate. The industry is advancing beyond simply centralizing its data, and into a new frontier of using that data to further improve other operational components of an asset. We are proud to be at the center of that process.
We look forward to working with you.