Junior Full Stack Developer
CHICAGO, IL / PLATFORM DEVELOPMENT TEAM
---
About Us, And Why We're Hiring
RealtyAds is fundamentally reimagining how real estate assets and brands communicate with the market. Our platform generates more exposure, for less money than any other form of marketing in commercial real estate. We are already serving over 275 million square feet and represent clients across 75 markets. Simply put, we are growing. That's where you come in.
We're looking to add a Junior Full Stack Developer to our SaaS development team. We have big plans for the platform which ensures client's communication is delivered, optimized, synchronized, and monitored. We're looking for someone who is proud of their craft and eager to keep learning while delivering exceptional software that enables our clients and internal teams to thrive.
We are resolved to revolutionize a massive industry that is ready for it and we want you to be a part of it.

Your Team at RealtyAds
Our SaaS development team is small, but awesome. You'll be working alongside proven startup developers who have experience transitioning multiple products and platforms from concept to enterprise level software. This is an exceptional opportunity for anyone seeking a high impact role with responsibility and empowerment.
As a developer at RealtyAds your primary objectives are simple. Use your expertise to make our users' experience truly effortless and maximize our internal team's effectiveness.
You won't be building alone; your team will be there to support, review, and celebrate your work. We own our processes and collective outcomes as a team.
Vacation & Work Life Balance
We want our employees to have a full life outside of RealtyAds. We believe in working hard and smart, but we're in this for the long haul. You won't be expected to work crazy hours. What you accomplish is more important to us than how long you are in front of a computer.
Speaking of not being in front of a computer, you will be expected to take vacation. It is important to us that you enjoy some downtime on your terms including, of course, standard holidays.
Competitive Compensation
RealtyAds is committed to the hiring, growing, and retention of top talent. We understand that our team members are an integral part of our success and we endeavor to pay at or above market rate for all employees.
We consider raises annually and have a bonus plan based on profitability, which you'll be included in from day one.
Other Benefits
RealtyAds will set you up with a top-of-the-line computer which will be fully yours to set up, work from, and take home.
We will, of course, get you set up with some high quality swag on your first day. Additionally, You'll always be among the first to see and enjoy our seasonal threads. We really like our swag and hope you will, too!

We offer excellent health and dental insurance options for you and your family. We'll help you cover the cost of that, too.
---
You, Our New Junior Full Stack Developer
You're a full stack developer with some experience building, shipping, and monitoring a web application. You've just completed your education focused on development or maybe you've already had one or two jobs with relevant experience.
You're very comfortable in at least one modern server-side language. We primarily use PHP here.
Some comfort with the client-side is required. To us this means you know enough HTML/CSS to get stuff on the screen matching a designer's spec. We work in small, cross-functional teams where you will likely find yourself responsible for end to end implementation of a feature.
You're not necessarily the "Ops" person where you work, but you certainly understand the infrastructure well enough to aid in architecting and maintaining scalable solutions. We host on Google Cloud Platform so experience there is a huge plus.
You'll do things like help vet and improve our server-side layer, implement new features, and integrate with third-party APIs. You'll also get to build on and improve our client interface.
You're who we're looking for if:
You are a developer that can adapt to new languages quickly.
You write code that is easy for other programmers and your future self to understand and use.
You have soft skills that make you stand out as a developer and a pleasure to work with. Communication is the basis for collaboration.
You are very comfortable with Full Stack Development.
You have an understanding of algorithms and data structures beyond arrays and "for loops." You should know when to use a Dictionary/Map, and why finding an element in a sorted array is faster than finding an element in an unsorted array.
You are aware of how websites and services can be exploited, are security conscious while you code, and protective of customer data and privacy.
You know how to find problems and how to code so that problems are discoverable in the first place.
We're especially interested in hearing from you if:
You have more than surface level understanding of digital advertising on any of the major ad networks.
You have experience with data visualization, dashboards, and reports related to business problems.
You are comfortable architecting data storage and data pipelines.
You have experience implementing and working within TDD environments.
You have experience with data visualization, dashboards, and reports related to business problems.
You are also comfortable with SQL and understand how to optimize queries.
Diversity
RealtyAds is an equal opportunity employer. We believe a diversity of backgrounds, beliefs, abilities, and experiences is critical to our success. We are passionate about creating a welcoming, supportive, and collaborative environment for all employees. All are encouraged to apply as we continue to grow a smart, experienced, and diverse team that loves working together to build something that matters.
Interested, but not sure?
If you are excited by this opportunity, but think you fall short of the requirements? Maybe you are a developer with other expertise? We definitely still want to talk to you. Include a pitch with your application on why RealtyAds wants to hire you. How you pitch us is up to you, just make sure it's short and creative!
How to Apply
Hit the "APPLY TO THIS JOB" button below to send us an email with your resume attached. We'll get back to you by the next business day.


To all recruitment agencies: We do not accept unsolicited agency resumes and are not responsible for any fees related to unsolicited resumes.

---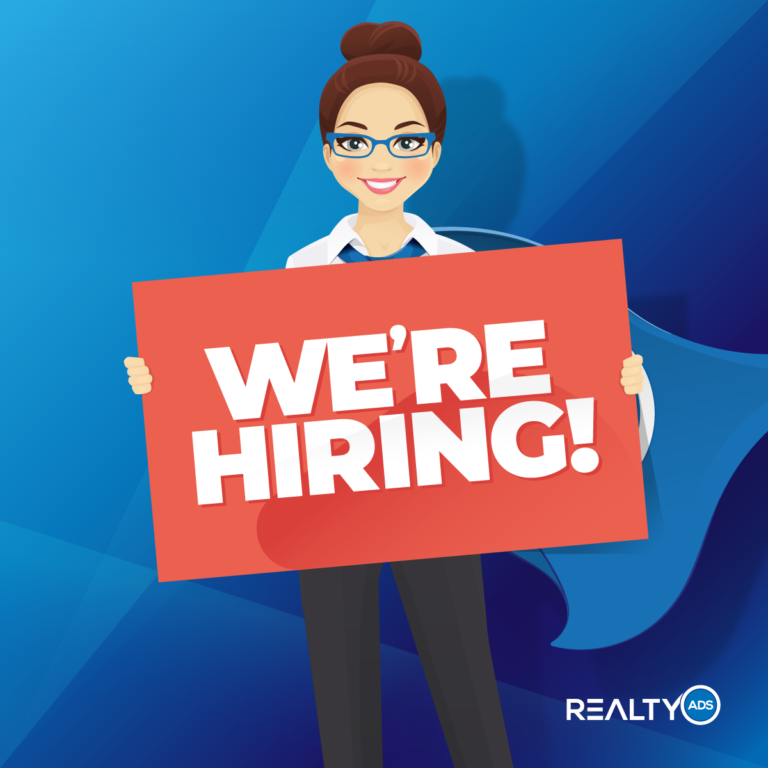 If you're interested in this position, please use the link below to send an email with your resume attached.
APPLY TO THIS JOB